Our approach
We tailor IoT to your needs
We are a supplier of complex IoT solutions – Your "IoT Solution Integrator"
Whether you're dealing with the question of what environment your employees are working in, how to smartly control equipment and cleaning, or how to improve energy management – you can always contact us first. We create practical and very quickly usable solutions on the Internet of Things platform. Solutions that not only make it much easier to manage your technical assets, but above all kick-start its true potential and focus on its real possibilities.
As an OKIN Group company we have years of practical IoT experience, spanning facility management, logistics and manufacturing. We understand the power of timely responses to critical situations. But we also know that the value of IoT relies entirely on our ability to react. Without business integration, IoT data is just noise.

This is the gateway to efficiency,  gaining benefits from  your assets and ultimately significant economic savings.

Portfolio
To enable you to realize the above-mentioned benefits of IoT, we focus on clear application scenarios, rapid deployment and gradual expansion primarily in the areas of building management and their environment, equipment and energy. That's why we offer you the following services and products:
Contact us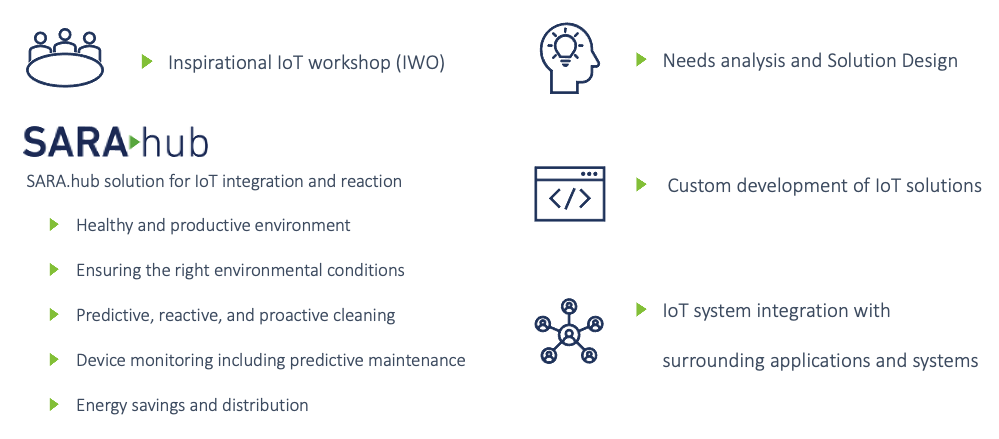 IWO: Inspirational IoT workshop
This is where the road to meaningful IoT begins. Learn more about IoT, be inspired by practical examples and suggestions. We will try to find suitable IoT usage areas for you together, and set the next steps. 
Content
Basic introduction to IoT
Inspiration from typical usage scenarios and current trends
Identify potential areas with specific IoT benefits in a client environment
Basic evaluation and idea of possible next steps
Why
A simple way to start dealing with an IoT area with an overlap into process automation

Get inspired and identify potential benefits and next steps

Invest 3h/1 day of time in educating yourself and your team
For who
Company Management 
Business IT 
The form
Workshop:
Introduction of IoT area, concepts, basic concepts

Typical scenarios by industry, trends

Discussion of current projects and strategies of the client in order to determine the potential benefits of IoT

Recommendations for further action
The resulting report, which captures the key points of the workshop, including the proposal for further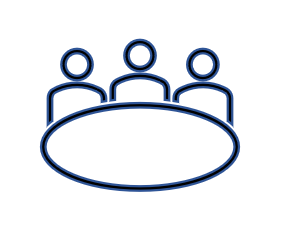 Need analysis
and
 Solution D
esign
We analyze your needs for IoT applications, including the necessary connection to surrounding systems. We will then design the optimal design and architecture of the solution, which will give you the required benefit and will be effective for both deployment and operation. 
SARA.hub: solution for IoT integration and reaction
SARA.hub (Smart Assets Rapid Action) is a easy-to-use environment for highly responsive IoT. SARA.hub acts as a central nervous system for your assets – receiving information, processing it and triggering action when necessary in response to important events. It enables you to Displays sensors and devices in graphic diagrams, maps, and filtered lists. It allows you to set up automated responses to specific situations, data consolidation, and many other features. It connects to surrounding systems and application to enable data and business process integration.
Custom development of IoT solutions
Although our SARA.hub solution covers a number of IoT scenarios, we are ready to complement other scenarios according to your needs, or design and create tailor-made IoT solutions for you. Thanks to our experience, a number of partners and a number of pre-prepared modules and scenarios, we are able to prepare such a tailor-made solution quickly and efficiently.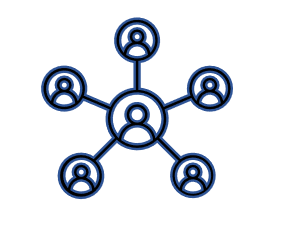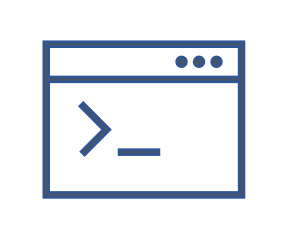 IoT system integration with surrounding applications and systems 
IoT solutions and systems are not the only applications you run in your company. Therefore, it is very important to be able to connect these systems with each other, thus enabling data exchange and process continuity. And it is precisely on integration that we focus very intensively on. We can connect more than 2000 different applications and systems. Don't leave your IoT solution alone.
CLEANING CONTROL: simple management of cleaners
CLEANING CONTROL is a powerful but simple to use attendance system which allows you to monitor the arrival and departure of cleaners – and to dispatch alternative workers in the case of any problem. By equipping your building with special readers that recognize cleaners' unique electronic tags the system enables coordinators to check staff attendance and schedules. To ensure robustness the tags are both waterproof and shockproof, protecting them from damage during normal handling.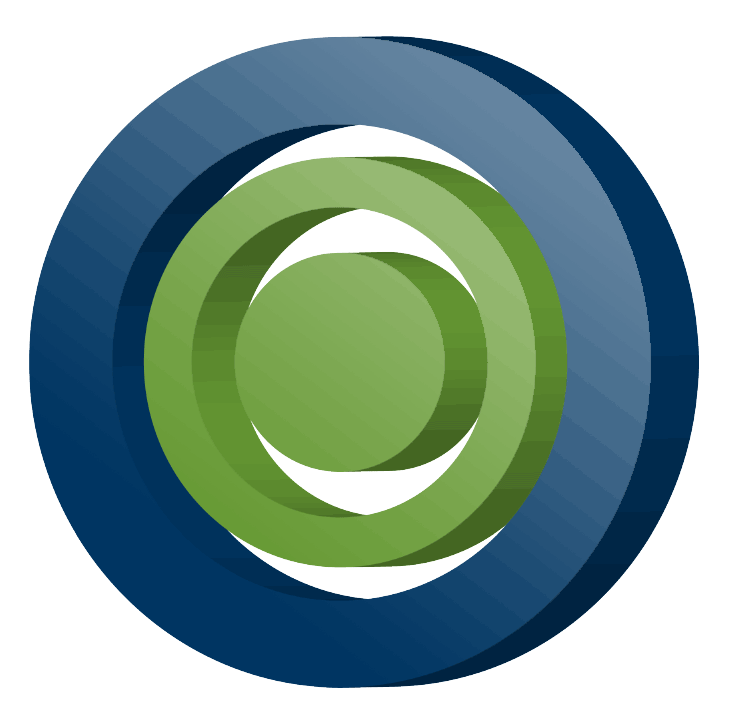 Portfolio
Your partner for IoT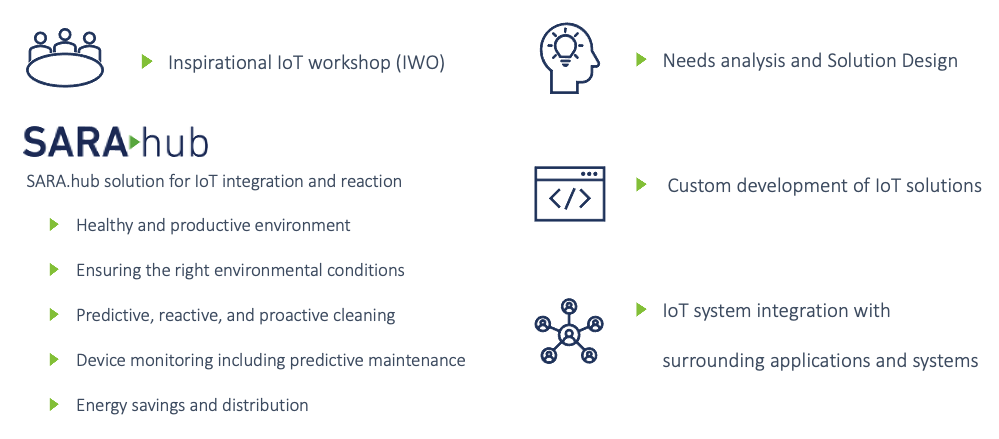 We will help you with IoT
Office
Podebradska 540/26
190 00 Prague 9
Czech Republic