We make sense of IoT
We put the Internet of Things to work for organizations of all sizes. Increasing operational efficiency and creating new possibilities by unlocking the full data potential of your assets.

BUILDINGS
Protection of buildings, technologies and structures
Usage analysis
Energy savings
Predictive maintenance and cleaning
Smart Facility Management
Efficient waste management
Smart Building concept

OFFICES
Healthy environment
Higher productivity
Energy savings / heating
Predictive and reactive cleaning
Usage analysis (number of people)
Reservation of workplaces and rooms
Tenant engagement apps
Remote reading
Consumption optimization
Protection against unauthorized usage
Automated billing
Early response to accidents
Electricity, Water, Gas, Heat
BRANCHES
Supervision of the branch network
Energy savings
Smart Facility Management
Predictive and reactive cleaning
Evaluation of usage
Tracking traffic

DEVICES
Predictive maintenance
Monitoring and protection
Space and efficiency optimization
Usage billing
PRODUCTION
Smart ANDON signaling
OEE – production efficiency
Predictive maintenance
Energy management

WAREHOUSES
Monitoring of storage conditions
Usage analysis
Energy savings
Predictive maintenance

CAMPUSES
Usage tracking
Energy management and savings
Distribution of energy and services
Predictive maintenance
Smart Facility Management
IoT benefits
We have solution for you 
Owner / CEO
Ensuring a higher level of protection against misuse or damage of your property
Extend lifespan with smart maintenance
Grounds for property-related decision-making
CFO
Energy savings
Data for decision making and optimizing asset usage
Reducing maintenance costs
CTO
Machines and equipment condition and status monitoring
Reducing maintenance and energy costs
Reduction of unplanned outages and failures due to preventive maintenance
Asset/Property Manager
Constant overview of the status of managed assets
Ensuring a higher level of protection against misuse or damage to property
Immediate documents for billing
FM - Facility Manager
Constant overview of the status of managed buildings, environment and technologies
Simplify work by automatically managing maintenance based on reality
Offering new and innovative services to your clients (external or internal)
Production manager
Overview of machine condition and production anytime, anywhere
Machine productivity optimization (OEE)
Fewer unplanned downtime due to predictive maintenance
CIO
Possibility to offer new services to your internal customers
IT resource protection (server rooms/data centers)
Further use of existing systems through integration
Transformation manager
New possibilities with online data from machines, equipment, environments
Link data and existing systems
Automate processes based on data
Maintenance manager
Constant overview of the state of environment and technology from anywhere
Faster response to malfunctions or non-standard situations
More efficient remote control
SARA.hub
SARA.hub
A ONE place for control and reaction
Central data collection about environment, energy and equipment from various sources (IoT sensors, MaR, ..).
Clear view of status and situation in one
Automatic reaction to a change in the situation.
Not only information, but also the start of the process or control.
Connect to surrounding systems and applications
Smart maintenance of buildings and equipment.
Efficient waste management.
Optimizing energy consumption and protection.
Healthy and productive environment of offices, stores, production…
Ensuring the temperature chain of warehouses, transport
We place great emphasis on the response
IoT makes sense whenever we want to save money, optimize asset utilization or accelerate change. We have clear and proven scenarios for logistics, warehouses, production office buildings, retail chains and other business segments.
Whether it's monitoring and improving the environment, optimizing machines and production processes, or monitoring and reducing energy consumption, we are able to quickly deploy SARA.hub solutions and connect them to your existing systems and processes. At the same time, we can easily adapt the solution to your specifi c needs and operational landscape.
Request more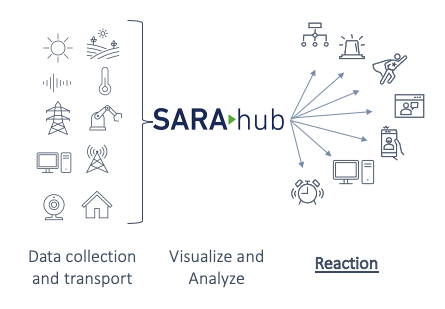 We will help you with IoT
Office
Podebradska 540/26
190 00 Prague 9
Czech Republic