We make sense of IoT
We deploy practical Internet of Things solutions in just a few weeks. Using our unique SARA.hub platform, we optimize equipment, energy consumption and environmental conditions to increase productivity, boosting efficiency and reducing cost.
IoT
Typical IoT usage scenarios

Logistics | Warehouses | Production sites | Office buildings | Retail chains
ENVIRONMENT
Healthy and productive environment
Protection of buildings, technologies, goods
Track space usage
Effective waste management
Predictive and proactive cleaning
DEVICE
Effective device maintenance
Monitor and protect devices
Production optimization
Equipment effectiveness (OEE)
Support / services calls (ANDON)
Evidence for billing
ENERGY
Remote energy consumption reading
Optimizing energy consumption

Protection against unathorized consumption

Automatic billing

Timely reaction to accidents
Nabídka
Our products and services

SARA.hub
SARA.hub
A powerful environment for monitoring assets and reacting to specific changes.
SARA.hub (Smart Assets Rapid Action) is the first, easy-to-use environment for highly responsive IoT. SARA.hub acts as a central nervous system for your assets – receiving information, processing it and triggering action when necessary in response to important events. It enables you to Displays sensors and devices in graphic diagrams, maps, and filtered lists. It allows you to set up automated responses to specific situations, data consolidation, and many other features
We place great emphasis on the response
IoT makes sense whenever we want to save money, optimize asset utilization or accelerate change. We have clear and proven scenarios for logistics, warehouses, production office buildings, retail chains and other business segments.
Whether it's monitoring and improving the environment, optimizing machines and production processes, or monitoring and reducing energy consumption, we are able to quickly deploy SARA.hub solutions and connect them to your existing systems and processes. At the same time, we can easily adapt the solution to your specifi c needs and operational landscape.
Request more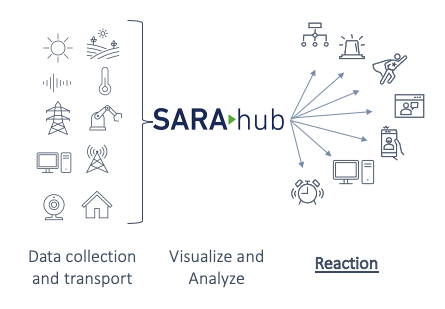 We will help you with IoT
Office
Podebradska 540/26
190 00 Prague 9
Czech Republic